Message from the Ambassador
---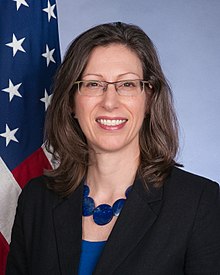 H.E. Alaina B. Teplitz
US Ambassador, Nepal
Opening and Thesis: Nepal is at a moment of historic opportunity. The new government–and the Nepali–people face high expectations – to envision and deliver a new era of economic growth and human development. Information Technology—IT—can and should play a major role in achieving these objectives. I envision two primary areas where IT can drive Nepal's success:
If there are empowering reforms in the business environment, IT can be a major growth sector in the economy. It is the government's responsibility to create the enabling environment that will allow this non-traditional sector to emerge by drawing on international best practices and the input of the private sector to enact reforms that will position Nepal to succeed in the competitive global environment.
IT tools can be put to use to facilitate Nepal's economic growth and instutionalization of democracy by supporting transparent, accountable, and inclusive governance and development. Nepal's possibilities are only constrained by the creativity and ingenuity of the people working to help the country succeed.